Identify Cost Drivers, Prioritize Targets, Implement Plan
Using customized tools and methodologies to manage financial risk, we find problem areas, target the issues and generate solutions resulting in action steps. We call this the "Find—Target—Fix" method. All analyses are integrated, simplified and can be drilled down to the individual claim level for effective targeting and problem resolution. The Financial Analyses are available in a secure web-based platform.
The Find—Target—Fix Method
Find
Dashboard
Financials
Price Inflation
Concurrent Analyses – Invoice Screening
Market Share
Target
Age/Gender
MAC Comparison
Brand Drug Trend
DAW with Provider Match
Price Trend
New Utilizer
Fix
Management of high-low performers
Forecasting healthcare disasters waiting to happen for prevention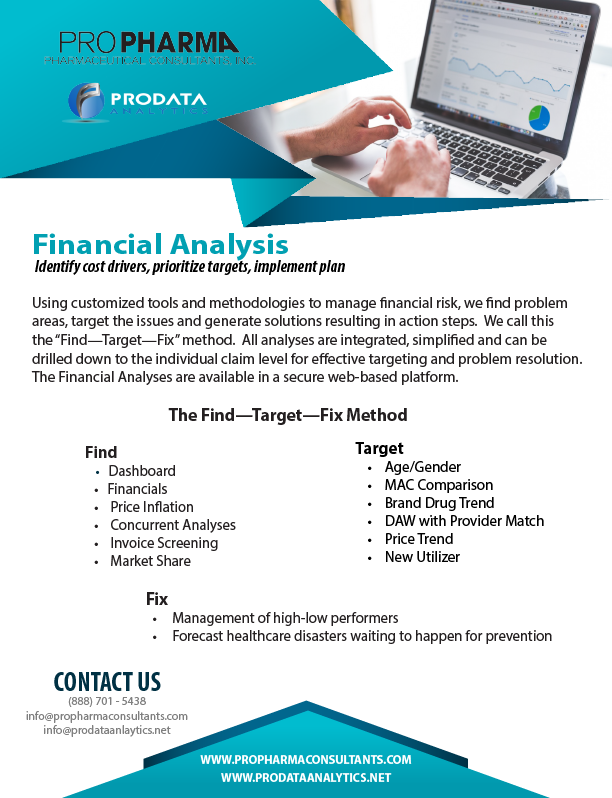 Financial Analysis at Work
Problem:Many of our clients have requested a method for looking at their monthly pharmacy financials with an emphasis on change. This is because what they received in the past was something like "show me your watch, and I will tell you what time it is". They were looking for understanding of how to prioritize management goals, what will drive the change, and how to manage the results. They didn't want to see the same results month after month without options for immediate change. They wanted to prioritize results across all options – including those that required investment and those that did not. Essentially, they wanted management in real-time.
Methodology: Using various tools to manage financial risks and communicate results to our clients, we have designed an approach to achieve the objectives and communications for our clients with many exhaustive reports to integrate them, simplify them, and make them easier to utilize. The result was modeled on the "Find – Target – Fix" methodology. All analyses are integrated, simplified, and allow for drill down to the individual claim level. An extensive group of filters is available for customization or default to our standard analyses. All analyses result in management TARGETS, or ALERTS for immediate action. Integration of analyses links individual actions with management objectives. As a result, analyses are actionable with measurable outcomes and trending for success. All were designed in secure client-specific cloud-based platforms to be used on desktop and mobile devices.
Outcome: Outcomes: Our clients have found that current status, drivers, actions and results are all integrated and available with a few clicks of the mouse. Not only are analyses actionable and measurable, but they can easily be communicated to team members for implementation.
Request a Quote