Customized MAC List – Transparent, Accessible & All the Savings Go to the Payers
Generic pricing should provide normative (cost plus) pricing for both Plans and Pharmacies. MAC fee schedules should pass all savings to Health Plans and patients. To satisfy pharmacists and Plans, the MAC fee schedules should be transparent, updated frequently, and based on customizable criteria.
Our MAC lists can be made accessible to all applicable pharmacists to review.
The benefits of having a Client-Specific MAC List are:
Medicaid compliance and/or CMS FUL compliance
Flexible pricing determinants
Lowest cost
Average of lowest 3 costs
Average of all generics
Median of all generics
Flexible price sources
Flexible therapeutic categories (customizable)
Flexible generic availability
24/7 access to list
Predetermined time gap from end of patent
Minimum number of generic manufacturers
Decision allowance for all generic, store brands, re-packagers, multisource, and/or branded generics
Flexible code basis, including GCN, GPI, and NDC
Establishing a cost-plus basis will minimize pharmacist complaints, which is a win-win!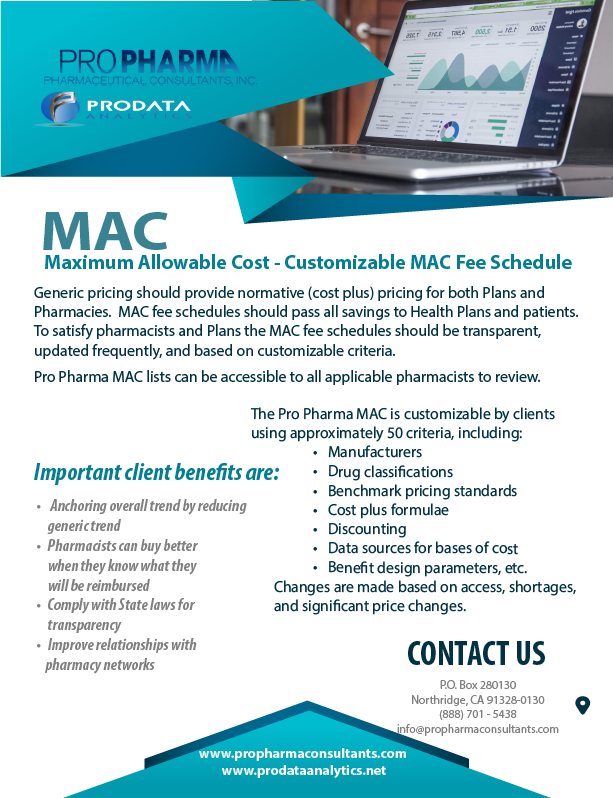 JCode Calculator at Work
Problem: Several clients have asked what to do about generic pricing in the face of new generics and many generics priced as brands. The consideration is how can the generic MAC pricing act as an anchor to the fast-rising brand pricing? Further, since MAC spread is often a significant source of revenue for PBMs, the problem was how to keep some of these margins.
A Health Plan client asked us to provide a custom MAC that detailed generic pricing on all generics including true generics, over-the-counter medications, drug store private label and store brands, extended release products, diagnostics, and medications coded as brand by the data sources, but that the client considered generic.
Methodology: We developed and created a custom MAC that met all the requirements of the problem. Pricing was set at wholesale acquisition cost (WAC) or below. The MAC is publicly available to the network pharmacies, updated weekly, and subject to change when necessary. Consideration was given to pricing at a State MAC and FUL but was not implemented in the first round due to dispensing fee contracts.
Outcome: The Plan achieved over 23% savings over the prior MAC provided by the PBM. The MAC has been in operation for several years. Trend has been consistently at minus 10%-12% and has never been lower than a minus 2% on any month.
Request a Quote